Christmas beer for all times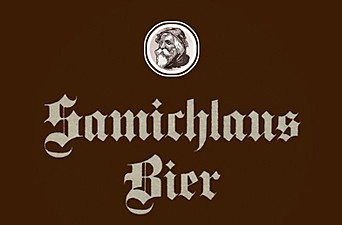 It is brewed only once a year on St. Nicholas Day, December 6. On this holiday in Europe it is customary to exchange gifts. And what better gift than a bottle of Christmas beer?
Of course, my article is about Samichlaus Christmas beer. It's a little late – Christmas is over, but winter in Israel has dragged on this year, and generally, I believe that holidays should be celebrated regularly and without reference to the calendar.
Samichlaus is a special beer with an interesting history. In translation from Swiss-German, it means Santa Claus. Brewed on the holiday of December 6, it is aged for 10 months, then bottled and sold on the following St. Nicholas Day.
For the first time it was brewed in the Swiss brewery Hürlimann, where lager yeast capable of producing 14% (!) of alcohol was grown especially for this beer. Every Christmas there was a real Christmas present on the shelves of Swiss stores – Samichlaus beer. The holiday came to an end in 1997 when the brewery was bought by the Danish concern Carlsberg. For reasons known only to them, Samichlaus production was stopped. Fortunately, a few years later, this magical beer returned to the people. In 2000 the Austrian brewery Schloss Eggenberg acquired the rights to produce Samichlaus according to the original recipe.
The first brewing of this legendary beer at Schloss Eggenberg was done in close contact with Swiss brewers. It was they who helped to recreate all those shades of this wonderful lager, which are impossible to convey on paper… By the way, the world famous "Beer Hunter" Michael Jackson thought that a bottle of Samichlaus beer should necessarily be attached to the Alpine rescue dogs – this drink is able to bring a frozen traveler back to life in the mountains.
However, that's enough history, it's time to try this beer. It is a Doppelbock and contains 14% alcohol, which is not too low considering that it is a lager. It is also sold in Israel. The front label shows the date of bottling. It also has a shelf life of five years. I'll let you know in confidence that this beer has virtually no shelf life. Samichlaus gets softer and rounder over the years and, like a good wine, is even more appreciated.
Christmas Samichlaus has a brown color with a distinct ruby hue. The low, cream-colored foam sort of underscores that this is no ordinary lager. Remember, as in the song by Kamburova "…I am a different tree!" As soon as you take the glass in your hands and bring it to your face, the magic lamp of Aladdin Samichlaus transports you to a dried fruit shop in an oriental bazaar. Their scents literally envelop you. And it's not just raisins, prunes and apricots. They are mixed together by the hand of a magician in perfect proportions. This is not the end of the magic, and the first sip opens a new page for you. The beer fills you with everything, every cell of your body. The dried fruit no longer dominates, it recedes into the background. In this party, the first fiddle is the malt. It is the rich flavor of malt with distinct notes of caramel and toffee that act as the first violin. The orchestra of dried fruit does not fade, it just changes the tonality and here come the other instruments – peaches and nuts flavor. Alcohol outlines their boundaries, but not a high fence. A soft, warm aftertaste slowly melts away, keeping you feeling like a holiday for a long time. The same one that only happens in childhood…
They say that there are places you have to visit. There is a beer, which at least once in your life everyone must try. And Samichlaus is one of them.