Belgians in our home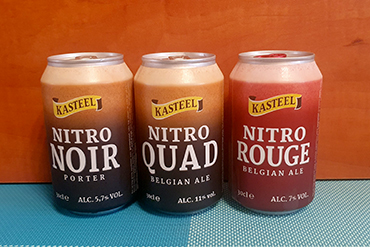 In my job, I have to follow publications about beer. Almost everywhere the word "Kraft" runs through the red thread. It has long since lost its original meaning and serves as a kind of indulgence for small breweries, justifying all their mistakes. Big breweries can't afford it, they just try to produce beers of consistent quality. Beer that we drank yesterday, drink today, and will drink tomorrow without being disappointed in it.
One such Belgian brewery, Kasteel Brouwerij Vanhonsebrouck, has long and firmly won its place in the hearts of St. Helena beer lovers. This family brewery was founded by Amandus Vanhonsebrouck in 1811 in the small Belgian village of Werken. It started a family dynasty of brewers. Then the brewery was moved to a modest farm in Ingelmunster, where it received a new name – Sint Jozef. After the First World War, the brewery underwent reconstruction and half of the builders' wages were paid out… in beer – the owners simply had no money…
After the Second World War Ingelmunster tried to establish the production of lagers, but having realized that they could not compete with the brewing concerns, they abandoned this venture. And at the end of the 50s Sint Jozef for the first time established the industrial production of beer brand Gueuze, which was a real revolution for those times.
New beers were constantly being born at the brewery and over time the capacity to produce all brands became insufficient. Therefore, in 2016 it was decided to close the old brewery and open a new production facility. During more than two hundred years of history, such hits as Bacchus, Brigand, Barista Chocolate Quad, Kasteel Donker were created in Ingelmunster. It was with Kasteel Donker that the famous Kasteel series of beers began.
Kasteel Donker is a strong, but surprisingly mild Belgian ale, which belongs to the Quadrupel group. This beer is dark brown in color with hints of caramel, coffee and chocolate. It became the basis for some other brands of the Kasteel series.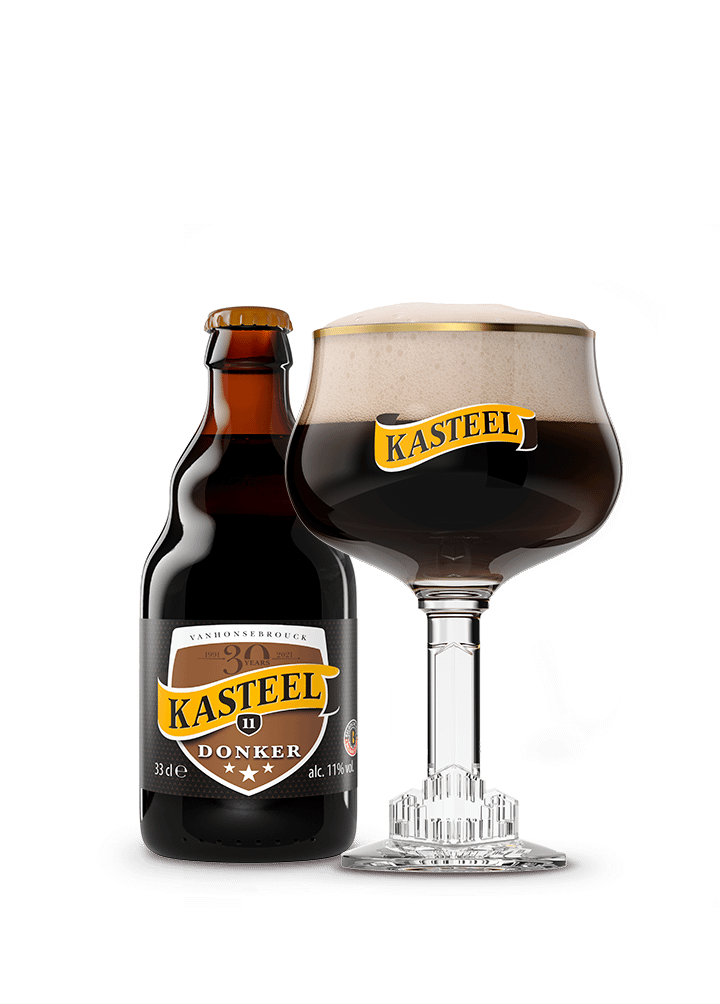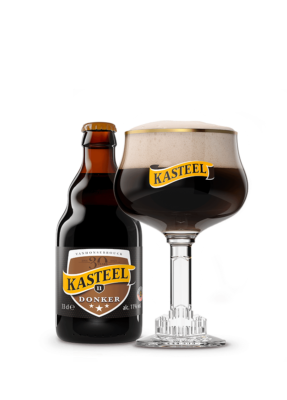 A new brewery called Kasteel Brouwerij Vanhonsebrouck was built in 2016 with the latest technology. It now produces more than 200,000 hectoliters of beer a year.
And now, after a brief history, a few words about Kasteel's new products. The new Nitro series is a Kasteel beer with the addition of nitrogen instead of carbon dioxide. Nitrogen gives this beer a silky creamy taste and a very nice dense foam. Why is this beer poured in cans? – The cans protect the beer from light, the beer cools faster in them, and the aluminum can is recyclable. The myths about the metallic taste of beer from cans have long been destroyed by modern technology of their production. Before pouring a beer with added nitrogen, you need to shake the can three times to let the nitrogen mix with the beer, and then in one movement empty the can into the glass. This is a real and quite fun ritual.
Today I'm going to talk about three new brands of nitrogen-infused beer: Kasteel Nitro Quad, Kasteel Nitro Noir (Porter) and Kasteel Nitro Rouge.
Beer cannot be drunk alone, it implies communication with people close to you. That's why I invited my old friend, a former beer taster. Although, can a beer taster be an "ex"?
The first beer was Kasteel Nitro Noir, a porter with nitro added. I've always had a weakness for porter and stout, but Kasteel Nitro Noir disappointed me. No, the beer had everything as it should be – it was quite strong – 5.7% alcohol and very drinkable. This porter has a nice, fine-grained foam.  Caramel and coffee notes and a sweet and creamy flavor. Drinks very smoothly, literally dissolves in you, but I did not like the brightness of it. I didn't like the excessive smoothness, lacked crisp lines and at least a little sharpness in the taste. Maybe I'm being picky, but I tried this beer at work with other professionals – all had the same impression.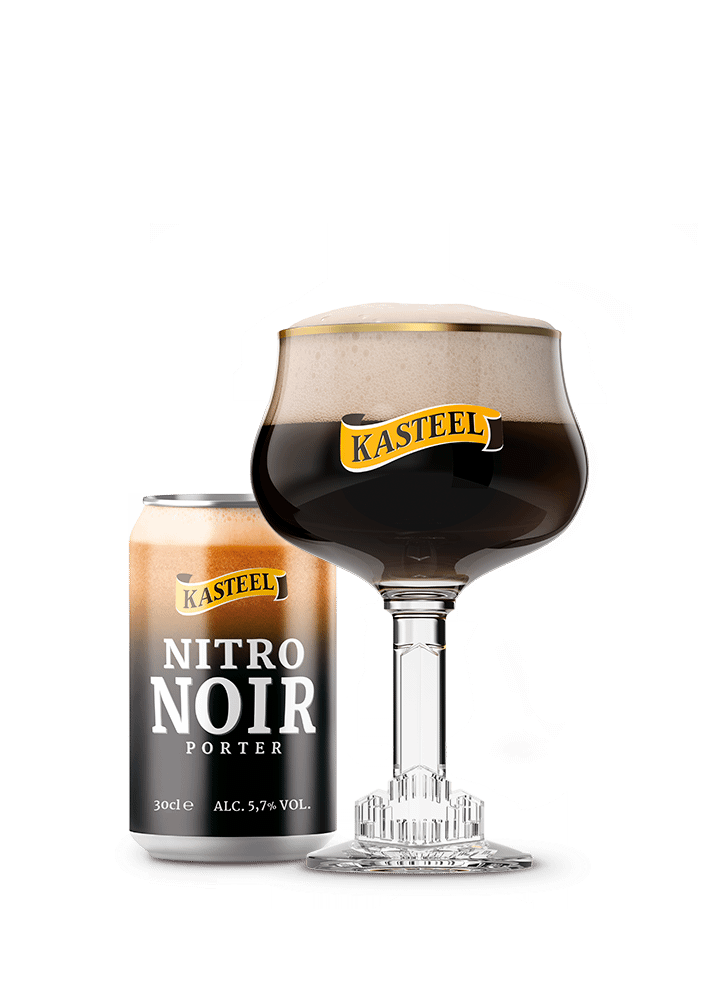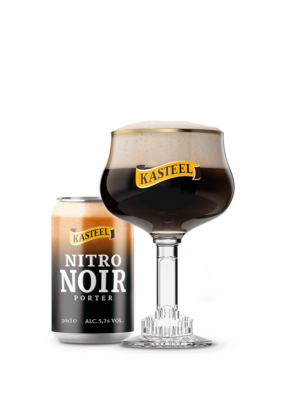 The second sample was a strong Belgian ale Kasteel Nitro Quad. It was a very different level – a very rich in taste and aroma beer. In the aroma, as well as in the taste, there are clearly nutty notes, and then a light aroma of prunes. Then prunes leave and are replaced by other dried fruits. There are several of them, but raisins are the brightest. A real strong Belgian ale. In this case, the nitrogen was very appropriate – it smoothed out the alcoholic harshness of the taste. The beer is very strong, 11% alcohol, but it is surprisingly mild to drink. Respect!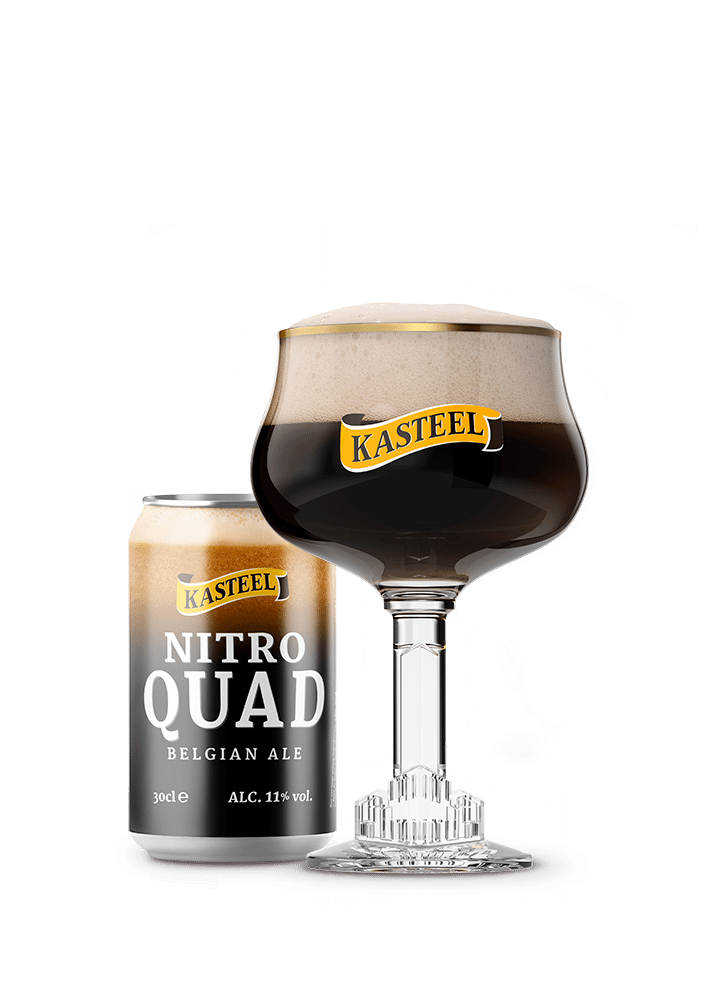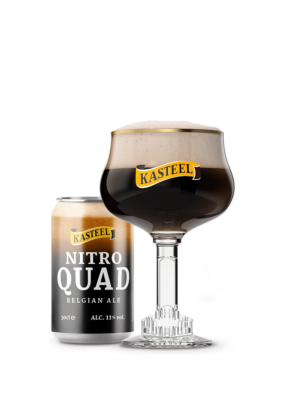 We left Kasteel Nitro Rouge as an "appetizer" and we were right. This beer is quite strong, although the Nitro version contains "only" 7% alcohol instead of the usual 8%. It is made on the basis of the famous Kasteel Donker, only with an addition of cherry syrup. Perhaps the "beer geeks" and "beer orthodox" will turn their noses up at it: Fi! Adding syrup!!! But make them feel bad! Since 2008, the whole world has just been enjoying this wonderful beer. The beer is very beautiful. The bright ruby color and the pale pink foam go together very delicately. One look at this beer is enough to make your soul lighten. Nitrogen, unlike the first beer, does not extinguish, but emphasizes the bright cherry flavor. Cherry is also clearly felt in the taste. With the first sip of Kasteel Nitro Rouge you are magically transported to the cherry orchard from your carefree childhood… That's it. I won't describe it anymore – you just have to try it!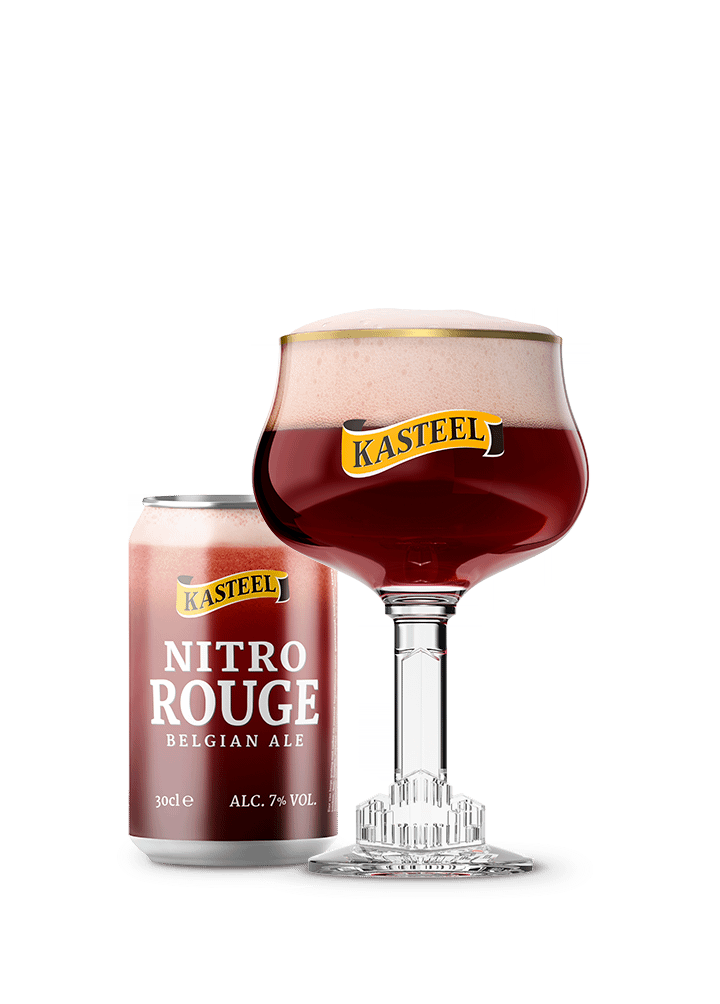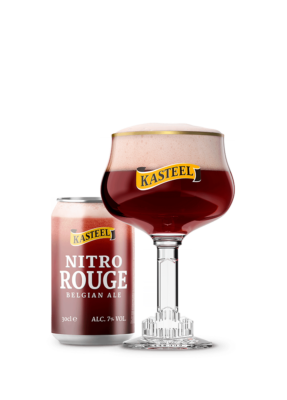 That's the kind of wonderful evening I had with a Kasteel Nitro beer.