Festival goes into the desert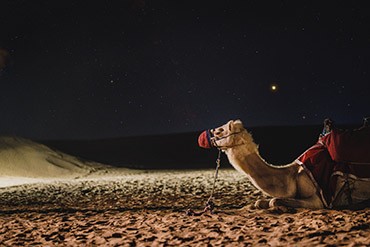 More than 200 years ago, on October 12, 1810 to be exact, the first beer festival was held in Munich, which later got the name Octoberfest.  It was timed to coincide with the wedding of the Bavarian King Ludwig I and Princess Therese of Saxony-Hiedburgausen.
Since then the festival has been held annually, cancelled only a few times due to world wars and a cholera epidemic in the 19th century. Last year the festival was canceled again due to the epidemic…
In addition to the joy of thousands of beer lovers, Octoberfest brings in about one billion (!) euros of profit every year. Apparently, the Munich festival will be cancelled this year as well. Oktoberfest restaurateurs' representative Peter Inselkammer estimated the chances at the beginning of the month as "fifty-fifty", and according to the Lord Mayor of Munich Dieter Reiter, the cancellation of Oktoberfest this year is becoming more and more likely.
It's too expensive to lose so much money in two years, which is why it was decided to move the festival away from Munich to… the outskirts of Dubai. This was confirmed to the SPIEGEL newspaper by Charles Blum, one of the organizers of the event, boss of the Berlin Christmas market. Plans call for the world's largest folk festival to be relocated to an area of some 420,000 square meters near Dubai Marina. Blum confirmed that emirate officials made the promise.
Because of respect for local traditions, "uncalculated" festival guests will be taken by special buses to their hotels so they don't embarrass Dubai residents. "It's about respect for both cultures," Blum said. He did not want to comment on any details yet because he signed a confidentiality agreement.
Bild previously reported that the Dubai Oktoberfest is scheduled to begin Oct. 7 at 12 p.m. in 32 tents simultaneously, and then run for six months from 12 p.m. to midnight. The estimated cost is about 50 million euros. In addition to Charles Blum, Munich ex-restaurateur Dirk Ippen and Munich host Sepp Kretz played key roles in developing the plan. Actor and politician Arnold Schwarzenegger, actress Pamela Anderson, and former German national team soccer player Lothar Matthäus are expected to visit the festival.
According to tradition, only six Munich breweries can brew beer for this festival: Augustiner, Hacker-Pschorr, Hofbräu, Löwenbräu, Paulaner and Spaten. According to journalists, if Munich brewers refuse to brew beer for the Dubai festival, the festival organizers will attract breweries from Mallorca.
The date of the festival is known, so it's time to book tickets to Dubai!
From IsraBeer: I once said in an interview: "In any industry there are people who make money and those who make Beer." In this case we are talking about money, not about the more than 200-year tradition of the famous beer festival… There is something unnatural and purely commercial in this whole endeavor…