Beer from the storeroom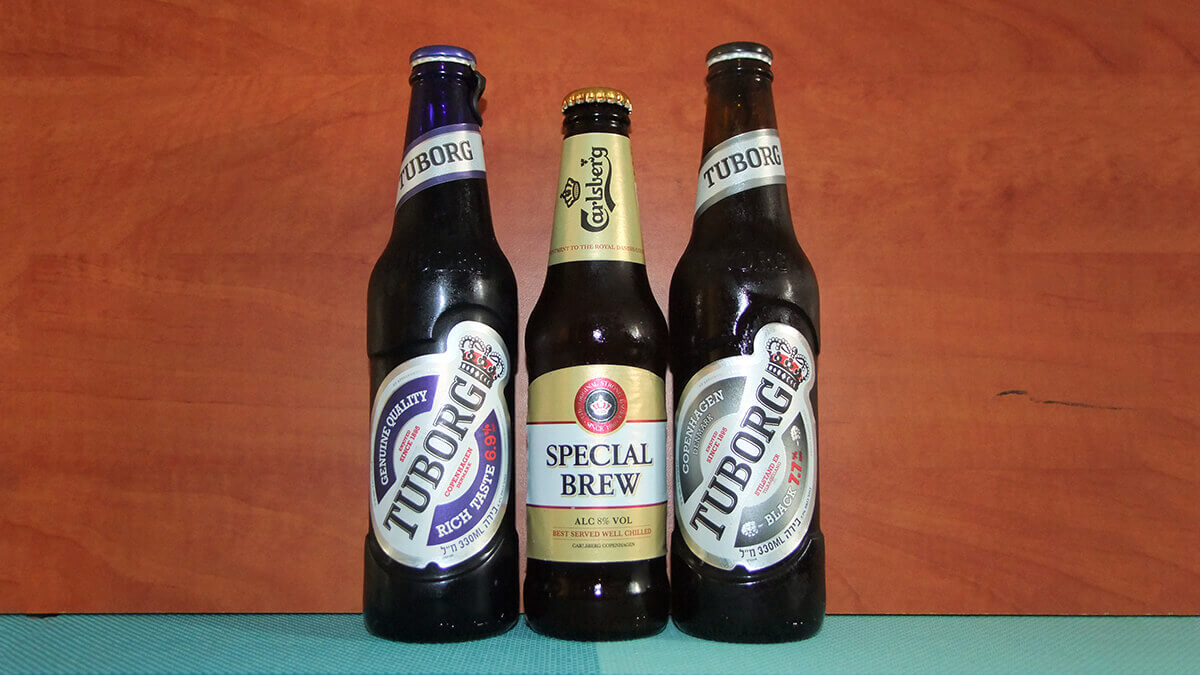 In my profession, I constantly have to follow beer innovations. Some of them are tasted immediately, others are put on the "beer library shelves". For those who don't know, my "beer library" is a few shelves I've reclaimed at home. This is where the beers that don't have an expiration date are deposited.
Among the "maturing" Samichlaus from different years, in the corner there are two Tuborg's – "Blue" and "Black", which I brewed some time ago. They have long expired, but that didn't stop me – beer over 6.5% alcohol almost doesn't expire, it ages and acquires new nuances of flavor. Last evening my nephew, a big beer lover, came to visit me – and we had a little tasting panel together.
The first was a blue Tuborg released for the 69th anniversary of Israel's formation. It expired in April 2018, but that only improved the taste. As I wrote before, this beer is brewed with handmade floor malts. It's thanks to him that the beer has a very rich flavor. And over the years, Blue Tuborg has acquired touches of dried fruit, raisins and nuts. They don't stick out, but give additional very pleasant tones to the beer.
Next up was my favorite, Tuborg Black. This beer is very mild in the presence of quite high alcohol. It also expired three years ago, and the oxygen (you can't get away from it ☹ ) also added hints of prunes and nuts. The beer remained as soft and delicate on the palate, the alcohol doesn't protrude, but is organically present in the taste. Wonderful!
I have had a bottle of Carlsberg Special Brew at work since time immemorial. Every time we thought we had to try it at the next tasting, and every time we have forgotten… By the way, very wrongly: this beer was first brewed in 1950 in honor of Sir Winston Churchill's visit to Copenhagen. Since then, this full-bodied malt lager has been one of the leading super-strength beers in Great Britain.
We didn't find an expiration date on the bottle, or maybe they didn't print it, because a strong beer like this just doesn't need one. Unfortunately, while we were spinning the bottle, trying to find the date of manufacture, we stirred its contents. The sediment got into our glasses as well. This turbidity ruined the experience, but otherwise the beer was great! It was as if time had passed over it. We did not feel any signs of aging in the taste. It was a really full-bodied beer, with a very clean, as if outlined with a sharp pencil, malt flavor. Light cognac notes gently envelope the body of this elixir. Bitterness, as befits a good Danish beer, is clearly expressed, but does not dominate the flavor. This is a lager of a different class than any other!
Finally, we decided to try something "not stale". It turned out to be Just Desserts, a pleasant stout from BrewDog. The beer had a 7% strength and was very mild on the palate. Just like it says on the can, I could clearly taste the pecans and butterscotch, and I also got a clear taste of marshmallow. It's a great beer for sweet lovers. On that mild dessert note, our evening was over.